10 meters for 12 Guinness World Records. It only took 2.51 seconds and it was over. The months of practice all lead to this, and in a blink of an eye, it was over. I didn't even have to try it a second time. The fastest 10 meters covered with a pool cue balanced on the chin.
It was a great day at the Boise State Science and Engineering Festival. Thousands of students came out to learn more about STEM and I'm honored that several hundred came to listen to me talk about the importance of having a growth mindset and working hard.
Here's the YouTube Video… my shortest one yet.
Thank you to the team! Jackson, Steve, Steve, Amy, Stoney, Becky, Jennifer, and BSU!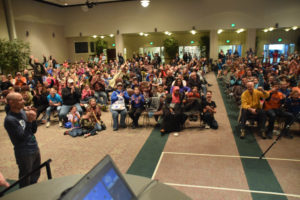 (Visited 43 times, 1 visits today)