There's a course at MIT called 6.111 (all courses are numbered and that's generally how students refer to them). The official title was Introduction to Digital Systems Laboratory, but if students refer to it by a name, it's called Digital Death Lab. It is intense, as are many classes at MIT, but this one takes more time than most. For the second half of the semester students pair off to create a lab project. My partner, Chris Wilkens (now a PhD research scientist at Yahoo) and I decided to create a juggling simulator (in our great wisdom as advanced undergrads we officially titled it "Interactive Virtual Juggling Simulator").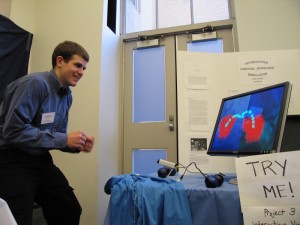 The basic premise was you stood in front of a camera and waved your hands  around. Your hands showed up on a screen (red above) and balls (light blue above) were virtually added. It was pretty cool and we actually got the thing to work well enough that other students and professors actually wanted to try it out. The day before it was due Chris was lamenting that it wasn't complicated enough. We originally hand plans to connect multiple simulators together and pass juggle. We also couldn't get the balls round. Chris was worried we hadn't done enough. I told him: "The thing works!" Long story short, it ended up winning several awards including the George C. Newton award for Best Undergraduate Lab in EECS for the year of 2005. Our professor, Chris Terman (one of my favorites) suggested this could have some cool gaming applications and that maybe we should consider pursing it further. We were very wise to say that we were too busy and it probably wouldn't go anywhere anyway. When Xbox came out with the Kinect a few years later I made sure call Chris and say… "You know… maybe we were on to something". Around this time I realized I was better at presenting a project than actually coding it. Fortunately, Chris was a phenomenal coder and academic and I didn't hold him back too much.
It was also a very powerful example of what can happen when you blend passions together. You can have fun, do cool stuff, get a good grade, engage others and the bonus at the end was it won some prizes and money.