It's time to revisit the record that got it all started… and this time I'm going to attempt to beat it by more than 5 seconds.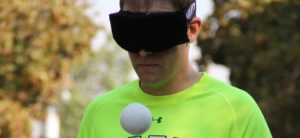 Cradlepoint is renting out the entire Basque
Block again on Wednesday for our company party to celebrate another successful year.  I'm going to attempt to reset the Guinness World Record for longest duration blindfolded juggling. This is the record that was published in the 2017 print edition of Guinness World Records. The record was 6:29. When I passed it last year everyone cheered (note I was blindfolded) and I got so excited I overthrew a ball and it was over. This year I've been practicing to go longer.
A lot has happened since I set this record a year ago so I thought I'd make a list of a few of the things that have happened in the last year:
1) Had a kid – Jeremy, with my beautiful wife Jennifer
2) Baby moon to French Polynesia with Jennifer
3) Set 10 Guinness World Records
4) Appeared on the TODAY show where I failed to set a Guinness World Record (learned more about my nerves and what I need to to do calm them)
5) Trip to England, Ireland and Scotland with Jeremy and Jennifer and family
6) Cradlepoint acquired a cool company to enhance our Software-Defined WAN strategy
7) Grand Canyon, NYC, Austin, Chicago, LA, Denver, Taiwan, McCall, Boston, Indianapolis, Louisville, Dallas, Sawtooths
8) Idaho's Got Talent 2016 Finalist, Fair's Got Talent 1st Runner-up, several shows to talk to students and educators about the importance of STEM
9)Noticed that I love to travel with Jennifer, juggle for STEM and work at my job at Cradlepoint
Thanks in advance to the witnesses and team who are going to help make this record possible:
Professor Kent Neupert – Director at Boise State University Center for Entrepreneurship
Matt Freeman – 
Executive Director of the
Idaho State Board of Education
Michael Gilmore – Deputy Attorney General at Idaho Attorney General
Rodd Ritchie – Pastor at Cole Community Church