On Saturday, November 4th, the 26 time Guinness World Record setter will attempt to make it 28.
It'll be at the Boise High School track from 10 AM to ~ 2:30 PM. Come cheer me on and/or walk and jog with me. I may cover up to 80 laps… and while I don't get bored easily, it's still 80 laps around a track.
I'm going for a two for one Guinness World Record attempt. The first is "furthest distance traveled on foot balancing a pool cue on a finger" and the second is "longest time to balance a pool cue on a finger". The current records are 7.9 miles and 4 hours 7 minutes respectively. The cue must be balanced on a single finger the entire time and must not fall off, touch another part of the body, or any other object. You may see I'm doing them at the same time and wonder if it's easier to balance a cue on a finger while moving. Is it easier to drink hot coffee while running? You may get to where you're going faster but that doesn't make it easier.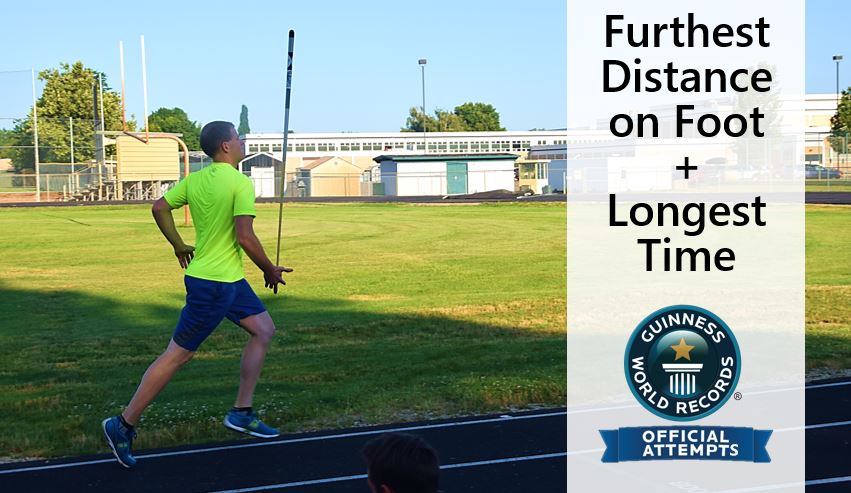 I was actually planning for a three-fer with fastest half marathon while balancing a cue on a finger but there was a rules mix-up that may end up being a blessing in disguise. The rules for the two records I'm attempting state the leather tip of the cue must be placed on the upturned tip of an ungloved finger. The rules for the half marathon record accidentally switched that to the leather cue tip must be up-turned. They tried to correct the rule but someone else had already applied and received the rules so they can't be changed. It's probably better since I can go slower the first couple hours and conserve energy for the last couple hours when it gets harder. I was going to attempt to run 2 hours to get in 13 miles and then walk another 2 hours for 4-6 miles more. Now I'll walk and jog the entire time to stay fresh and avoid exhaustion (I hope).
If successful, this will be my longest Guinness World Record attempt ever by over double. I attempted the furthest distance on foot once before and made it 12.9 miles in 2 hours but didn't have a continuous video of the entire attempt. I'll get 2 cameras set up for this attempt. If the cue falls off, tips over, bounces off the finger, hits my chest, runs into a tree branch, or touches any other object, the attempt ends at that moment. If that happens 4 hours 6 minutes in I will be sad, but not defeated… especially since I will have broken the distance-based record by then.
(Visited 41 times, 1 visits today)