On Tuesday, August 15th at 7:30 AM, I'm am going to attempt to walk more than 1668 meters around the Boise High School track. This would be a normal morning activity for many, but I'm going to attempt to do this while balancing a pool cue on my chin. If successful, it will be by 21st successful Guinness World Record-breaking attempt.
It's another example of the classic physics problem: an inverse pendulum with 2 axes of freedom vs a Segue with only 1 axis of freedom. I wonder if there's a version of a balancing record while on a Segue…
The last time I had a pool cue on my chin I only had to cover 10 meters. This time I have to go a lot further,  but the only clock I'm racing against is the one my set by the pain threshold of my neck looking up.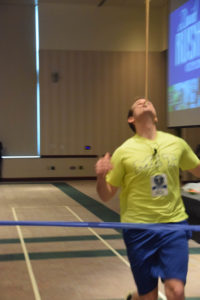 (Visited 57 times, 1 visits today)