Disqualified. ***Updated 10/20/16
I was afraid this might happen. You have to pay attention to every detail, and I didn't catch this one until I'd already completed the attempt. With 11 Guinness attempts, I suppose it was likely to happen at some point.
For the record, I agree with Guinness' assessment.
"the same person cannot appear with the participant in more than one selfie." There are two people (my official timers) that are standing behind you that are in 49 photos. Technically their entire face and neck are in focus and they appear with you in the pictures, disqualifying these 49 pictures.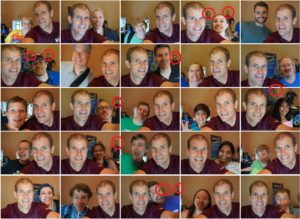 I'll have to try again sometime soon. It's already been broken twice since The Rock set it, but my failed attempt still passes those marks and I'm sure I can do better.
___
We did it! 127 selfies in 3 minutes to break the old Guinness World Record of 118 Selfies. Idaho Day of Design overall was a success, with great sessions by Tinkercad and lots of booths of innovative and inspiring companies and organizations in Idaho.
The key to breaking this record was parallel processing. We used 2 lines of people and took selfies on both sides vs the single side like Dwayne "The Rock" Johnson used. We proved once again, that if you set your mind to a goal and pursue it with a passion, you can achieve anything.
It also required lifting weights for a couple weeks to build arm strength, trying out 7 different cameras, 10 lenses, multiple lighting conditions, lots of individual practice, and a 100 person practice session.
Good luck to all you students out there (of every age) achieving your dreams.
YouTube Post:
News Coverage:
KTVB News Channel 7
Thank you to everyone who came out and participated!
Here are the 127 Selfies we took today!
Continue reading Update: Disqualified. Selfies 4 STEM [Success] Guinness World Record →